Heating and Cooling Equipment
Tom's Precision Heat Plus is a BRYANT Factory Authorized Dealer. Whether you need a new installation, repair, or maintenance, we can help.
Tom's Precision Heat Plus specializes in the following heating and cooling equipment.
Air Conditioners:

Air conditioners may look similar, but their Seasonal Energy Efficiency Rating (SEER) can vary widely. Higher SEER numbers save more money spent on electricity. A 13 SEER air conditioner, the EPA "current minimum standard", uses 23% less energy then a 10 SEER unit (EPA standard up until Jan. 2006). Even though 13 SEER is the minimum efficiency available, we currently offer a line of air conditioners that start at 13 SEER and go all the way up to a 20 SEER. Depending on your average usage, higher SEER air conditioners can significantly reduce your electric bill.
Additionally, we offer many air conditioners that have advanced features, such as 2-stage compressors and variable speed fan operation. These features not only improve the comfort level of your home, but can provide additional energy savings as well.
Gas Furnaces: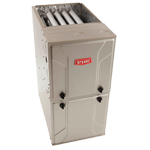 Today's new high efficiency furnaces can save up to 50% in operating costs over a ten-year-old furnace. Many 1990 and earlier model furnaces have Annual Fuel Utilization Efficiency (AFUE) ratings of 65% or less. The minimum AFUE rated furnace that can be sold in the United States today is 80%.
Our current product offering starts at 80% AFUE and goes all the way to a very efficient 96.6% AFUE rating. Depending on your average usage, higher AFUE rated furnaces can significantly reduce your gas bill.
We offer many furnaces with variable and multi-speed features that can provide enhanced indoor comfort by slowly ramping up to your thermostat setting rather than simply turning on at full speed. This alleviates the 'cold air blow' often associated with single speed furnaces, and dramatically reduces system noise.
Hybrid Systems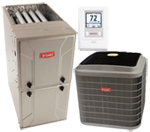 With a traditional heating and cooling system, if you wanted to save more, you had to use less. But a Hybrid Heat system combines the benefits of intelligent control for both gas and electric heating to create an intuitive system that can actually react to changing conditions.
No matter what the temperature is outside, a Hybrid Heat system will automatically select the fuel source most efficient for your home, which means you'll stay warm in the winter, cool in the summer and save money all year long.
To design a Hybrid Heat system for your home, we professionally match one of our heat pump units with a natural gas furnace. Contact us to see how much energy you can save over your existing system.
Air Cleaners

Air cleaners effectively remove bacteria, pollen, animal dander and other pollutants as small as 0.01 microns. That's 18,000 times smaller than the head of a pin. The higher the Minimum Efficiency Reporting Value (MERV), the more efficiently the cleaner removes particles. We offer air cleaners that range from MERV 10 to MERV 15 to meet your needs.  For those families that have severe allergies, we also offer Whole House High Efficiency Particulate Arresting (HEPA) filtration systems.
Humidifiers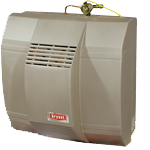 Humidifiers work in tandem with your furnace system to deliver desired humidity levels throughout your home. Maintaining proper humidity levels in your home is essential to maintaining indoor comfort during the winter months. Moderate humidity levels make you feel warmer at lower temperatures, which means you can set your thermostat lower without sacrificing comfort.
Depending on the size of your home, we offer a variety of humidifiers to deliver the right amount of moisture into the air. Sizing of humidifiers is measured in Gallons Per Day (GPD), and we offer models from 12 GPD to 18 GPD.
Zoning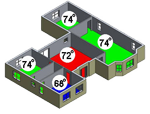 Zoning can provide optimum comfort with increased energy savings in your home by dividing a home into areas with similar heating and cooling needs and independently controlling the temperature in each area. Much like multiple light switches that independently control lighting in different rooms, with zoning, multiple zone thermostats or sensors control temperature in different areas of the home. Contact us for an in-home evaluation and estimate.
Boilers
If your home has hot water radiators in each room for heat, you have a boiler to heat the water. Like a furnace, the energy efficiency of a boiler is given as the Annual Fuel Utilization Efficiency (AFUE). Boilers manufactured since 1992 must have an AFUE of at least 80%. We offer a complete line of gas and oil boilers starting at 80% AFUE and up.
Water Heaters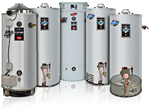 After heating and cooling, water heating is typically the largest energy user in the home because it is necessary for so many domestic activities. The capacity of a water heater is an important consideration. The water heater should provide enough hot water at the busiest time of the day. We offer a wide variety of electric, gas and tankless water heaters.
Garage Heaters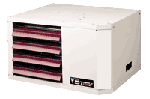 When winter hits, there's one area that we often wish was warmer than it is; the garage. If you have a detached garage that houses your vehicles or workshop, you may want to consider looking at a garage heater. These can not only make the air in the building warmer and more comfortable, but it can actually help when it comes to warming up the car or truck in the morning. We offer a wide selection of electric and gas garage heating systems.
We also work with equipment such as Geo-thermal systems, ventilators, room-by-room solutions, carbon monoxide detectors, thermostats, and UV lights.  For more information about how Tom's Precision Heat can help your home or business or to request a quote for updating your system visit our Contact Us page.