Air Conditioner Repair Services Buffalo, NY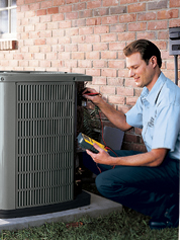 Tom's Precision Heat Plus provides the highest level of air conditioner repair services and satisfaction in Western New York. Our technicians receive continuous education on the most current technologies in our industry.
Whether you're in need of a heating system or an air conditioning system, repair services, or preventative maintenance our skilled technicians can handle the job.
If your home or business needs a new air conditioner installed we have many options to choose from. You can improve the comfort of your home or business while saving on energy bills by selecting the right equipment for your needs. Features such as 2-stage compressors and variable speed fan operations give you the ability to control the temperature in your building while saving money.